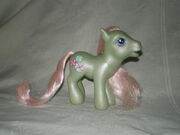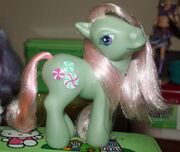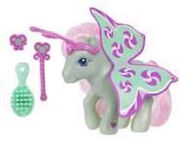 Minty was one of the many pony names from G1 that Hasbro decided to recycle, bringing the name back for G3.
She was first released as one of the Glitter Celebration Ponies in summer 2003. Minty was released many times and a frequent character in the movies. Despite this she didn't make it into the Core 7 and stopped being produced in the last few years of G3.
Media Appearances
Edit
Animated Pony Stats
Body Colour: Mint green
Hair Colour: Pink, light pink
Eye Colour: Pink
Symbol: Three green and pink mints
Minty has starred in many of the G3 My Little Pony cartoons and DVDs, including A Charming Birthday, A Very Minty Christmas, The Princess Promenade, A Very Pony Place, The World's Biggest Tea Party and cameo in Meet the Ponies in all of which her voice was played by Tabitha St. Germain.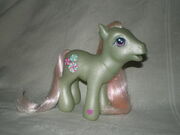 When Hasbro first released the G3 range, there seems to have been some confusion regarding which hoof the heart symbol should be painted on. The hoof heart is supposed to indicate the magnetic hoof but some ponies with magnetic non-display side hooves escaped from the factory with the heart printed on the opposite hoof, so as to be seen in their boxes.
Year One (2003)
Edit
Glitter Celebration Minty
Edit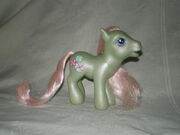 Glitter Celebration Ponies summer 2003.
Pony Stats
Edit
Pose: Donkey Pose (Minty I)
Body Colour: Green
Hair Colour: 'Fading pink' with irridescent tinsel
Eye Colour: Purple and pink with yellow heart symbol
Symbol: Three green and pink mints
Hoof Heart: Pink
Accessories
Green bow brush and pony charm.
Backcard Stories
Edit
Minty loves crazy, silly, upside-down days. She's always coming up with new jokes to tell and fun things to do. With MINTY every day is a dizzy delight!
Promo Pack Minty
Edit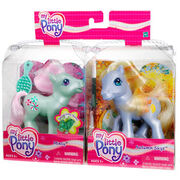 Promo Minty
Minty I
Celebration Salon Value Pack
Edit
---
Minty I
Year Two (2004)
Edit
Disney Princess Minty
Edit
Minty I
Accessories
Year Three (2005)
Edit
Winter Minty 2005
Edit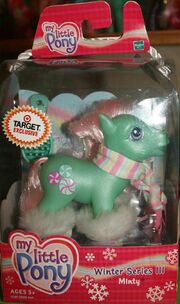 Minty I
Winter Minty
​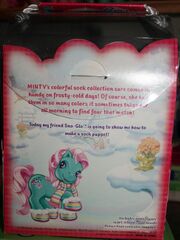 MINTY's colorful sock collection sure comes in handy on frosty-cold days! Of course, she has them in so many colors it sometimes takes her all morning to find four that match!
Ponies releases in this set are: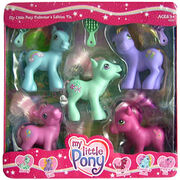 Collector's Edition Tin, released in 2007. Came with five ponies: Rainbow Dash, Cherry Blossom, Minty, Daisyjo and Pinkie Pie.
Daisyjo is incorrectly labelled as "Daisy Who" on the packaging.
Ice Dancing with Glitter Glide bonus Minty
Edit
---
Pose: Diva Pose Minty II
Diva
Wing Wishes Minty
Edit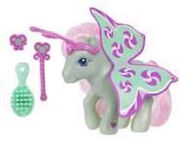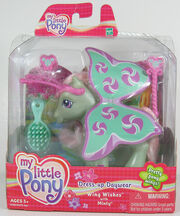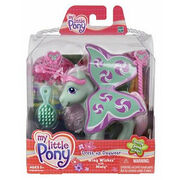 Pose: Walking Pose Minty III
Accessories
Wing Wishes Minty with bonus Tea Leaf
Edit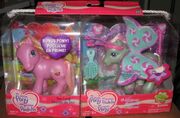 Wing Wishes Promo Pack with Tea Leaf 2 different versions 2005
Minty III
Sharing Tea with Pinkie Pie and Minty
Edit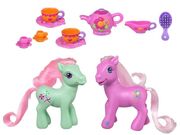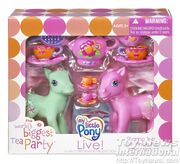 Pose: January Carnation Pose Minty IV
Sharing Tea available at the Live Show 2007
Ponies released in this set are:
Year Five (2007)
Edit
Favorite Friends Wave 1 Minty
Edit
Pose: Star Surprise Pose Minty V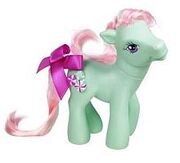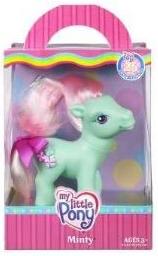 Ponies released in this set are:
A Very Minty Christmas
Edit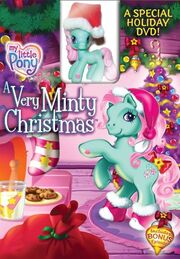 Pose: Daffidazey Pose Minty VI
A Very Minty Christmas 2007
Accessories
Year Six (2008)
Edit
Winter Minty 2008
Edit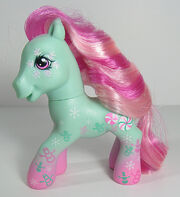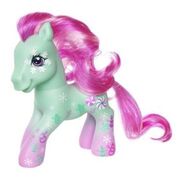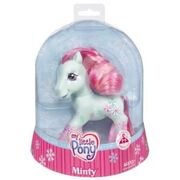 Pose: Makeup Cheerilee Pose Minty VII
Mexican Minty
Edit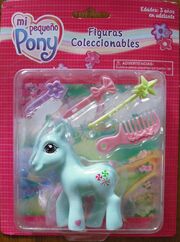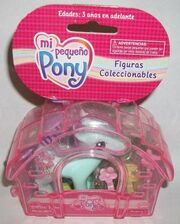 one version of Mexican Minty is in the Walking Pose. She came packaged in a transparent pink house case with a brush, 2 hair clips, and a wand. the colors of the accessories vary.
Another is also in the walking pose, but was packaged on a normal card, and came with a flower hair clip, a ribbon hair clip, a comb, and a wand accessory (colors of accesories vary)
another variant is in the Donkey Pose and came with a refrigerator, an oven, a counter, a flower hair clip, a ribbon hair clip, a comb and a magic wand accessory (color of accessories vary)
Unlike the US minty, Mexican Minty is smaller and made of hard plastic.
Merchandise
Edit