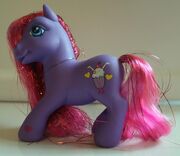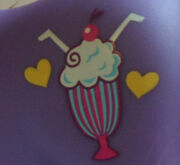 Fizzy Pop was released in 2005 a part of the Shimmer Ponies set.
Pony Stats
Pose: Fizzy Pop Pose
Body Colour: Purple
Hair Colour: Pink with tinsel
Eye Colour: blue
Symbol: sundae with 2 yellow hearts and 2 straws
Hoof Heart: pink
Accessories
Backcard Stories
Edit
There are so many fun things to do at the beach, FIZZY POP can hardly decide which one to do first! She likes having fun in the sun, but her favorite activity is at night - watching a super duper, fireworks display over the water!

Media appearances
Pony Stats
Body Colour: Purple
Hair Colour: Pink and light pink
Eye Colour: Blue
Symbol: Smoothie
Fizzy Pop starred in Dancing in the Clouds, A Very Minty Christmas, The Princess Promenade and cameo in Twinkle Wish Adventure.