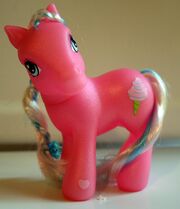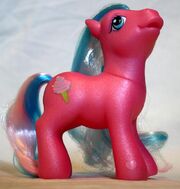 Cotton Candy was one of the many pony names from G1 that Hasbro decided to recycle, bringing the name back for G3. She was released with the Cotton Candy Cafe.
She was also released in a 4 pack with Rainbow Swirl, Candy Apple, and Finger Paints in 2005.
Pony Stats
Edit
Pose: Wysteria Pose
Body Colour: Pink
Hair Colour: Blue, 'fading pink' and white
Eye Colour: Blue and pink with yellow heart symbol
Symbol: Pink cotton candy on green stick
Hoof Heart: Pink
Accessories
Cotton Candy symbols
Backcard Stories
Edit
Ponies from all over Ponyville come to the COTTON CANDY CAFE for tea parties and ice cream. There are festive "treats" in store everyday, because COTTON CANDY cooks up a storm. Let's see what's on the menu today!
Media Appearances
Edit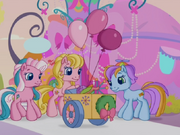 Animated pony stats
Body Colour: Dark pink
Hair Colour: Blue, light pink and white
Eye Colour: Blue
Symbol: White cotton candy on green stick
Cotton Candy has starred in several of the G3 My Little Pony cartoons and DVDs, including A Charming Birthday, Friends Are Never Far Away, A Very Minty Christmas, Pinkie Pie and the Ladybug Jamboree, The Runaway Rainbow with cameo in Meet the Ponies and Twinkle Wish Adventure, in all of which her voice was played by Kelly Sheridan.
Release I
Edit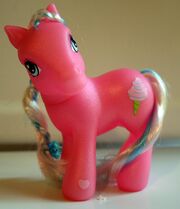 Release II
Edit
Cotton Candy II
Merchandise
Edit