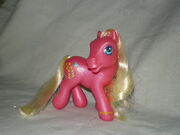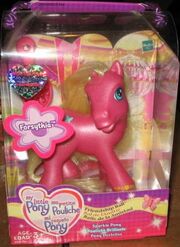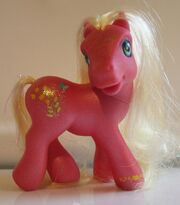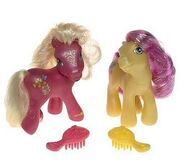 Forsythia was first released as one of the Sparkle Ponies in 2004.
Pony Stats
Pose: Sunny Daze Pose
Body Colour: Red
Hair Colour: Yellow with irridescent tinsel
Eye Colour: Two-tone blue with green heart symbol
Symbol: Yellow forsythia plant with blue butterfly
Hoof Heart: Yellow
Accessories
Forsythia
Backcard Stories

Edit
Whenever a friend needs to talk, Forsythia makes a pot of hot cocoa and a plate of cookies. After an afternoon of sweet treats and pony games, everyones smiling again!
Media Appearances
Edit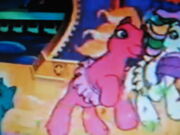 Animated pony Stats
Body Colour: Red
Hair Colour: Yellow
Eye Colour: Blue
Symbol: Yellow forsythia flower
Forsythia starred in Dancing in the Clouds, Friends Are Never Far Away, A Very Minty Christmas, Pinkie Pie and the Ladybug Jamboree and cameo in Meet the Ponies.
Year Two (2004)
Edit
Playtime Cottage
Edit
Forsythia was released with the Playtime Cottage set that was available in Australia.