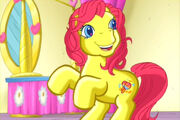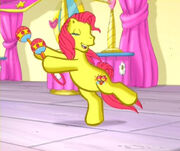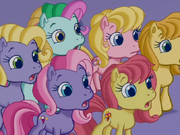 Fiesta Flair was a named character in Pinkie Pie and the Ladybug Jamboree that was never actually produced as a toy pony. Many speculate that due to her Mexican accent, name and symbol there might have been backlash that caused Hasbro to rethink her development. Some also believe that Candy Apple looks allot like the video screen shots of Fiesta Flair. But that is all speculation.
Pony Stats
Pose: Never produced
Body Colour: Yellow
Hair Colour: Red
Eye Colour: Blue
Symbol: Pair of maracas
Hoof Heart: None
Fiesta Flair starred in Pinkie Pie and the Ladybug Jamboree and cameo in Twinkle Wish Adventure.