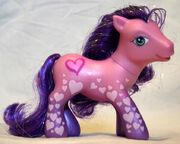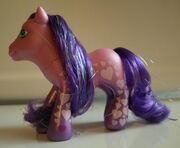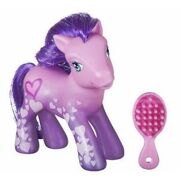 Fancy Free is a Pretty Patterns Pony released in 2006.
Pony Stats
Pose: Shell-Belle Pose
Body Colour: Pink with purple gradient legs and white hearts
Hair Colour: Purple with tinsel
Eye Colour: Green
Symbol: Purple Gradient with hearts up all 4 legs, symbol is a pink heart outline.
Hoof Heart: Pink
Accessories
Accessories
Backcard Stories
Edit
Birthday Month: March
Favorite Color: Sky Blue
Favorite Flower: Daffodils
Favorite Thing to do: Flying a kite as high as it will go!
Pretty Patterns single 2006
2 Pack with 2006 Valenshy