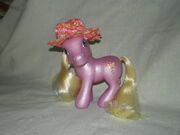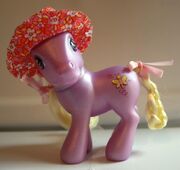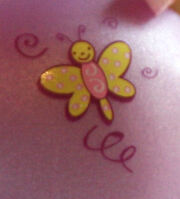 Doseydotes was released in 2004 as a Target exclusive Easter Pony. She was also released in Europe as part of a bonus set.
Pony Stats
Pose: Wysteria Pose
Body Colour: Purple
Hair Colour: Yellow
Eye Colour: Two-tone purple with yellow heart symbol
Symbol: Yellow and pink butterfly
Hoof Heart: pink
Media Appearances
Edit
Year Two (2004)
Edit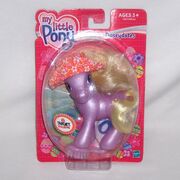 Easter Doseydotes
Edit
Accessories
Backcard Stories
Edit
When the winter's snow has finally melted, DOSEYDOTES heads outdoors to look for the very first flowers of spring. Sometimes she will gather a few colourful blooms and put them in her hat for an extra special look!
Year Six (2008)
Edit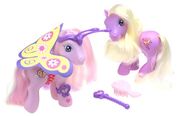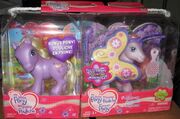 Wing Wishes Doseydotes
Edit
Wing Wishes bonus pack 2008 with Fluttershy. There are 2 versions of this release.
Variations
Edit
Version 1
Body: Is less pearly
Hoof Heart: The pink colour in her hoof heart is brighter and she has a magnet in her foot.
Symbol: The outlines of her symbol are much thicker and the pink colour in her symbol is brighter
Eyes: The highlight in her eye is of a paler pink colour and her eyelashes are further apart
Version 2
Hoof Heart: She has no hoof heart and no magnet and he cover in her foot is white