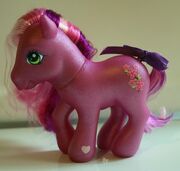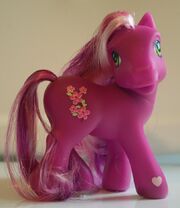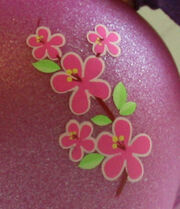 Cherry Blossom was originally released in 2004 as part of the R
ainbow Celebration Ponies
assortment. She was eventually replaced in the Pony line by
Cheerilee
.
Pony Stats
Edit
Pose: Walking Pose
Body Colour: purple
Hair Colour: pink, purple and white
Eye Colour: green
Symbol: cherry blossom branch
Hoof Heart: pink
Accessories
Backcard Stories
Edit
CHERRY BLOSSOMS parties are especially fun, because she has them at all kinds of crazy times! Last week she threw a hot chocolate and marshmellow party at midnight. This week its a five o'clock rise and shine for breakfast bash!
Send out invitations for next weeks party
Go shopping for new feather boas
Play hopscotch with Cupcake
Release I
Edit
Rainbow Celebration Ponies 2004
Ponies released in this set are:
Cherry Blossom
Cherry Blossom
Variations
Body: Her body is darker and much less pearly
Hoof Heart: White cover in her foot with no magnet, she has no hoof heart
Release II
Edit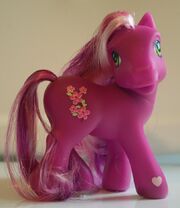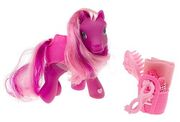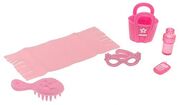 Seaside Celebration Cherry Blossom
Edit
Seaside Celebration 2005
Accessories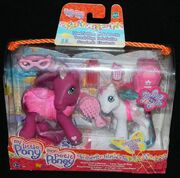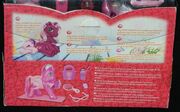 Variations
Body: Her body is completely matte
Ponies released in this set are:
Seaside Celebration Cherry Blossom
Variations
Version 1
Hoof Heart: She has a hoof heart and a magnet in her foot
Version 2
Hoof Heart: She has no hoof heart and no magnet and the magnet cover is white
Release III
Edit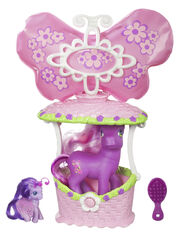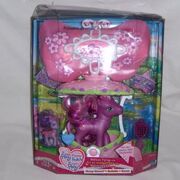 Balloon Flying
Edit
Released in 2006 there are 2 versions of this release. She came with Tiddly Wink
Balloon Flying
Backcard Story
Birthday Month: April
Favorite Color: Pale Pink
Favorite Flower: cherry blossoms, naturally!
Favorite thing to do: throwing fun parties
Variations
Version 1
Accessories: Comes with Tiddly wink the breezie
Version 2
Accessories: No breezie but comes with garden accessories
McDonald's
Edit
Other Merchandise
Edit