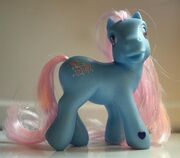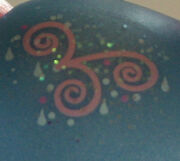 Blue Mist was released in 2004 as a Sparkle Pony.
Pony Stats
Pose: Sunny Daze Pose
Body Colour: blue
Hair Colour: pink and white
Eye Colour: pink
Symbol: 3 pink connecting swirls with glitter
Hoof Heart: dark blue
Accessories
blue bowtie brush.
Backcard Stories
Edit
Do you believe in fairy tails? BLUE MIST does! She loves to read books full of legends and long ago tales, and imagines herself a pony princess living in a Castle!