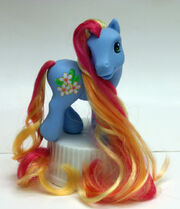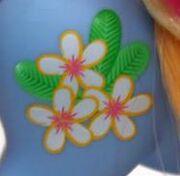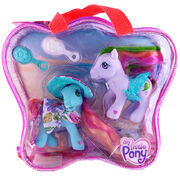 Beach Belle is a super long hair pony sold exclusively at Meijer's along with Caribbean Delight . Beach Belle is also one of the rarest ponies of the G3 line.
Pony Stats
Pose: Sunny Daze Pose
Body Colour: blue
Hair Colour: dark pink and yellow
Eye Colour: green
Symbol: 3 white flowers and 2 leaves
Hoof Heart: pink
Accessories
blue flower brush
white flower brush
blue wrap with white hearts on it
white flowered sundress
matching flowered hat
Backcard Stories
Edit
BEACH BELLE is famous for her night time parties at the beach. She strings tiny lights through the trees, places colourful lanterns in the sand and plays tropical music. Her parties are so much fun, they often last till midnight!