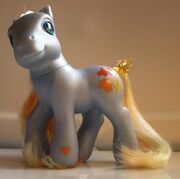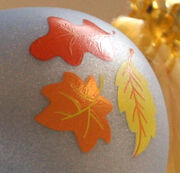 Autumn Skye was originally released in 2003 as a European exclusive. She was later released as a bonus pony.
Pony Stats
Edit
Pose: Rainbow Dash Pose
Body Colour: Blue
Hair Colour: Yellow and orange
Eye Colour: Two-tone blue with yellow heart symbol
Symbol: Three leaves, one dark orange, one pale orange and one yellow
Hoof Heart: Orange
Accessories
Backcard Stories
Edit
AUTUMN SKYE just loves playing outdoors. She can tell you about every single tree, flower and rock in Ponyville! This busy pony brings a breath of fresh air to everything she does!
Go for a nature walk with Minty and Star Swirl
Press pretty flowers into a book
Have a picnic lunch at the Rainbow Fountain!
Media Appearances
Edit